Heavy-Duty LifePo4 Lithium Forklift Battery
Main features for lithium battery forklift:
1. Economic:
Low cost of use: The cost of electricity is about 20~30% of the cost of traditional engineering machinery.
Low maintenance cost: less wearing parts, low failure rate and simple maintenance; no need for regular maintenance of diesel engine, replacement of oil, filters, etc., maintenance cost is more than 50% lower than traditional diesel engineering machinery.
2. The battery system in the heavy duty forklift is safe, high-efficiency, long-life, and can be used normally for 8 to 10 years to solve the pain points that users care about. Lithium iron phosphate battery, it has good thermal stability and solves the risk of spontaneous combustion or deflagration caused by thermal runaway.
Lithium iron phosphate battery has a deep charge and discharge frequency of more than 4,000 times, and the service life is about 2.5 times of a ternary lithium battery, and 5 to 10 times of a lead-acid battery.
3. Reliable high performance
Intelligent electronic fan, high-efficiency liquid cooling system to prevent overheating and shutdown.
Battery comes with a heating film and works normally in the environment of -30~+55°C (-22°F~131°F).
4. Lithium battery forklift has strong endurance
Such as 218kwh large capacity lithium battery, charging 1.5~2 hours, continuous work for 8 hours.
5. Electric forklift is comfortable and environmentally friendly
Zero emissions, zero pollution: no emissions during driving and working.
Low noise: The motor produces much less noise than the high-power diesel engine of the construction machinery.
Low vibration: The vibration generated by the motor is much lower than that of the diesel engine, which significantly improves the driving experience.
JB BATTERY heavy-duty forklift battery
JB BATTERY LiFePO4 lithium-ion battery for TOYOTA, YALE-HYSTER, LINDE, TAYLOR, KALMAR, LIFT-FORCE AND RANIERO heavy-duty forklifts.
As a leading full China Lithium-Ion battery provider, JB BATTERY heavy-duty lithium-ion batteries are suitable for many types of forklifts including Toyota, Yale-Hester, Linde, Taylor, Kalmar, Lift-Force and Raniero.
This complete battery system, made in china, consists of lithium-ion battery cells and modules, intelligent monitoring and control systems, extensive safety componentry, and a high-frequency opportunity/fast charger that communicates with the battery via CAN bus protocol.
With less than a 1% failure rate, JB BATTERY heavy-duty lithium-ion batteries are proven reliable with unmatched quality. We provide integrated services where key system components such as heavy duty forklifts and Lithium Batteries are scaled, engineered, and customized for our clients as well as OEM industry partners.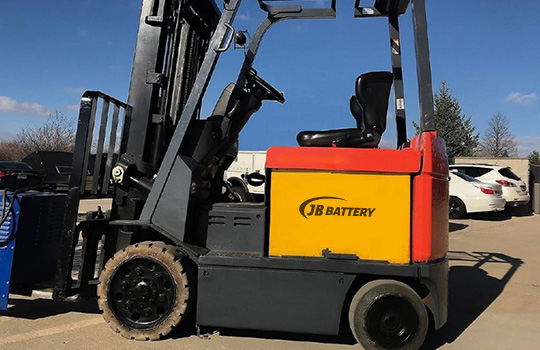 Heavy-Duty lithium-ion batteries guarantee operations without disruption for the most demanding applications dealing with heavy loads (the beverage distribution, paper, lumber, and metal industries), high lift heights (very narrow aisle applications), massive attachments (paper roll clamps, push-pull, single-double).